iZeeSuite propose several modules dedicated to the management of sales and contracts.
iZeeSales
With the iZeeSales module, you can manage your quotations and purchase orders with ease. You follow your quotations from end to end, from the writing up to the payment of the invoice via the sending to the customer and its acceptance. The software gives you an accurate view of the status of your quotes and purchase orders.
The commercial relationship with your customer is essential for the image of your company, therefore the presentation of your quotqtion is an important point of your business approach. With iZeeSales, you master the layout of your quotes with the configuration of an easily modifiable template in Word.
However, seeing an attractive quote model is not always sufficient, it is often necessary to modify the text of a quotation to customize your offer for your customer. In iZeeSales, nothing is simpler, just click a button and your quote opens in Word. Simply modify it, click on "Save" and it is automatically updated in the application.
When your purchase orders are ready to be billed, you can automatically generate all invoices with one click. You have the choice of consolidating your invoices per customer or creating an invoice for each purchase order.
iZeeContracts
The iZeeContracts module let you manage your contracts and billing schedules.
When you create a new contract, you define the products concerned, the price negotiated with the customer and the billing frequency (monthly, quarterly, etc.). You can manage quantities at maturity, for example you have a service contract with a customer for which you have set a daily price, at the end of the month you only have to fill in the number of days to generate the bill. You can also manage prices at maturity, for example, you have defined the possibility of re-invoicing the expenses of mission to your customer, at the expiration, you will just have to enter the amount of the costs to be invoiced to be automatically integrated into the invoice.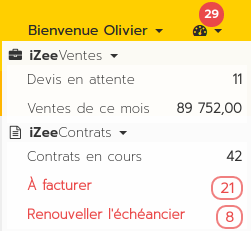 Same as iZeeSales, your contracts are created from a Word template that you can customize according to your business and graphic design. Once created, you can freely edit the document in Word.
With iZeeContracts, you are sure to always generate your bill on time and to not forget to renew your billing schedules. You can see the list of invoices at any time and generate all invoices together. You are also alerted to the renewal deadlines at the end of the period.
Once your invoices are generated from your purchase orders or schedules, iZeeSuite helps you manage your invoices and payments with its modules iZeeBill, iZeeFinance et iZeePay.